QuartzProgect – Plant Inspection Management System
QuartzProgect provides a web-based Inspection Management Solution, developed for maintaining and organizing records over the pre- and in-service life of a Plant Asset. The system enables and simplifies the identification of every plant item.
Instantly access data on any plant asset via graphical interface.
The management of industrial plant is reliant on detailed system drawings, with unique identification assigned to critical items such as support hangers, welds, bends etc, on pipework systems for exampl and therefore particularly relevant to Pressure Piping Systems.
Creating Quartz
The Plant constructional drawings are re-draw and configured focussing only on required detail and features, assigning a unique and sequential numbering system, essential in establishing Quality Control for any inspection programme, whilst also providing a scaled 3D model…an extremely useful tool for many aspects of plant management.
Powerful Database
The consolidation and easy retrieval of inspection records greatly assists engineers in the efficient management of the detail of plant and inspection records, and the results/findings and importantly the 'status', over the plant system lifetime. Providing a powerful means for planning inspection programmes and managing lifetime assessment and remaining life.
The on-line database benefits multi-user open access.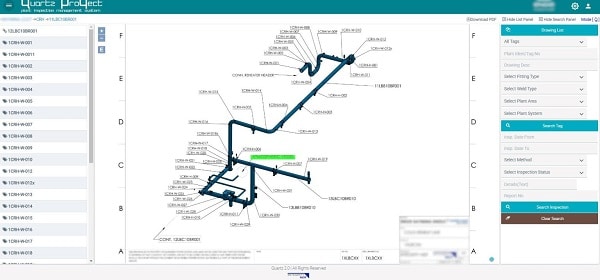 Features
3D: Complete scaled 3D CAD pipework system drawings
Data: Material, operational, and dimensional data
Sequential: Sequential idents. to critical items
On Screen: On screen navigation around pipework system.
History: Database of metallurgical and inspection history
Live-Tag: `Live-tag` assigned to critical items
Benefits
Savings: Cost & time savings in pipework management.
Our Source: One source for pipework system records.
Detailed: Detailed system drawings
Demonstrate: Demonstrate consolidated approach to pipework management.
Useful: Useful tool for plant operators